Kith Kitchens Ribbon Cutting in Florence-Lauderdale Industrial Park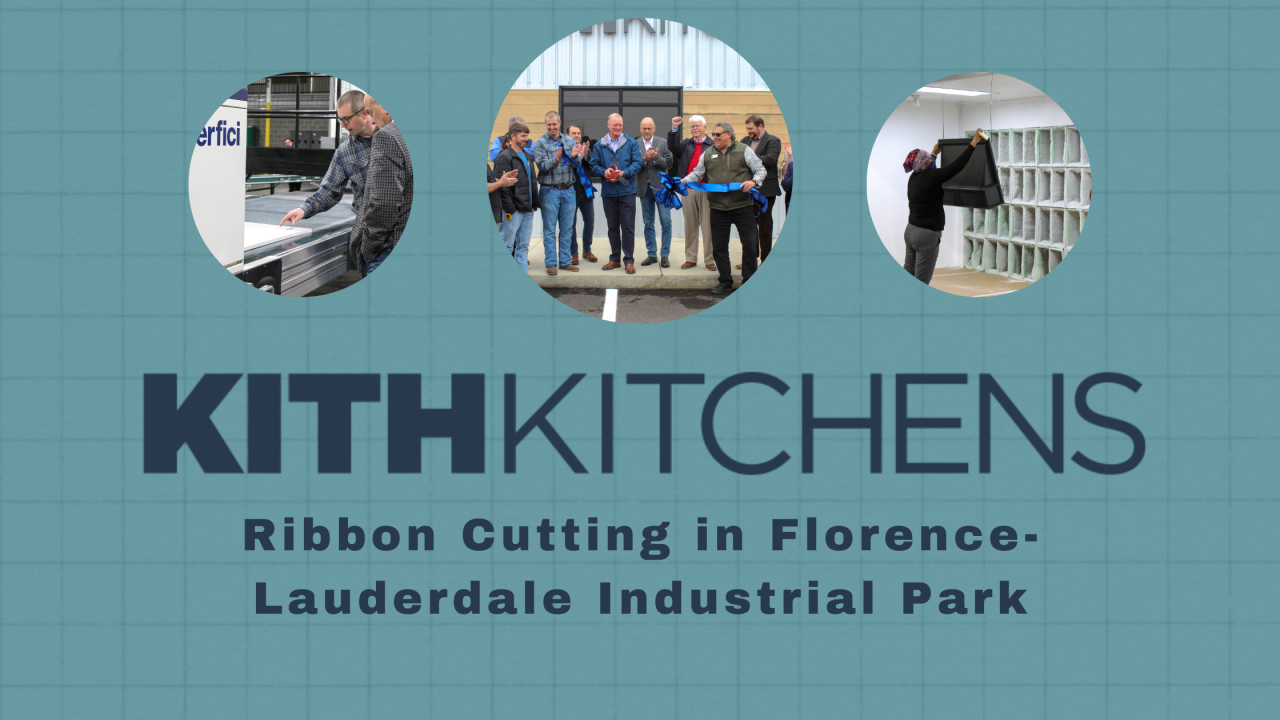 FLORENCE, ALA. – Kith Kitchens, a Haleyville, AL based manufacturer of kitchen and bath cabinetry, celebrated the opening of their state-of-the-art cabinet manufacturing facility in Florence, Ala., on Wednesday, February 23, 2022, at 1:00 PM.
Kith, recently recognized by the Alabama Department of Commerce and Governor Kay Ivey as one of Alabama's leading manufacturers, held a Ribbon Cutting at their new location at 2184 Rushton St. in the Shoals Economic Development Authority's (Shoals EDA) Florence-Lauderdale Industrial Park. This new $14 million investment will bring approximately 250 new job opportunities to Florence and the surrounding Shoals region.
"Florence provides us with a great place in which to do business and proximity to the additional team members we need to add to our work force to continue to serve our customers well and grow our business", said Kith CEO, Mark Smith. "We want to thank Shoals EDA, AIDT, the City of Florence, the Alabama DOC and Governor Ivey for their assistance in making this project happen, and we are excited to be part of the Florence community for years to come."
"We are thrilled to see the Kith Kitchens' facility operational in the Florence-Lauderdale Industrial Park, " said Kevin Jackson, President of The Shoals EDA. "We are grateful for their investment and look forward to continuing to support Kith Kitchens as they grow in the Shoals."
The Shoals EDA, along with the Shoals Chamber, the Shoals Industrial Development Committee (SIDC), the Tennessee Valley Authority (TVA) Economic Development, and the Alabama Department of Commerce are excited to celebrate the opening of Kith, a Vitality Investor of the Shoals Chamber.
"Kith Kitchens' investment in the Shoals represents an exciting opportunity for Kith, but also those who will be employed by their company. We are grateful for their presence in Florence and their commitment to the Shoals and look forward to seeing their success in the years to come," stated Caitlin Holland, President of the Shoals Chamber of Commerce.
The new Florence facility is the latest investment by Kith in its efforts to meet growing customer demand for high quality cabinetry made with environmentally friendly "low VOC" paints and stains.
- ### -
By accepting you will be accessing a service provided by a third-party external to https://seda-shoals.com/